Before travelling please check items of interest are in stock as stock changes daily.
No Tariffs or Duty added to Items going South.
If You want to Deal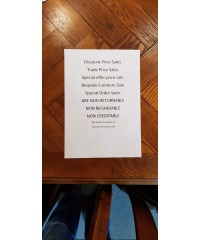 ---
Discount Price Sales
Trade Price Sales
Special offer price sale
Bespoke Furniture Sale
Special Order Sales
ARE NON RETURNABLE
NON REFUNDABLE
NON CREDITABLE....
10% Admin fee applies to all
Full price items bought from showroom stock returned within 7 days
Call for Price: 028 8778 4895