Before travelling please check items of interest are in stock as stock changes daily.
No Tariffs or Duty added to Items going South.
Kinsale Hounds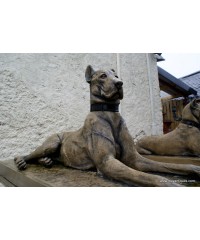 ---
Pair Jacquemart Hounds on Plinths
£2650 plus Vat
Call for Price: 028 8778 4895
Pair of Superb stone Kinsale Hounds on plinths
With Certificate
Known to have killed the last wolf in Ireland.
£6625+vat
Call for Price: 028 8778 4895